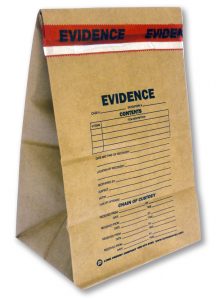 Police Departments worldwide have been using our security seals and tamper-indicating packaging solutions for nearly 40 years.
It is a requirement by law to maintain the integrity of confiscated drugs, weapons, cash and other evidence found at a crime scene. Court approved, our sealing solutions have to work. Without fail. There is no room for error. Our customers are the pickiest bunch when it comes down to proper packaging and tamper-indicating security seals. That is why they come to us.
Customers range from the crime laboratory divisions of the Department of Homeland Security, FBI, U.S. Customs Service, DEA, Los Angeles Police, NYPD and tens of thousands of clients worldwide. Believe us, they run into some serious stuff. Now with all this press lately, we sense a real need in the meal delivery business. And a need that is not completely different from the concerns of law enforcement.
Although we are known by some as "CSI" Experts, we don't claim to know necessarily all of your issues. We operate out of the parent company, the Lynn Peavey Company. We developed the MealSeals brand to meet the delivery service issues.
We will share what knowledge we have learned (provided we are allowed) to help prevent and deter tampering with the meals that you provide. You can be guaranteed that our solutions work better than just a simple sticky back label.
We actually manufacture and print your products on our secure premises. Full capabilities are available…from materials and films used, down to roll widths, custom printing and full colors if necessary. Maybe some of our concerns or product suggestions may be "over the top" but you will definitely have a range of security options to choose from.
Please, if you have a suggestion or a particular need, give us a call or jot down an email.